Update on the earthquake in Turkey and Syria
ICR Canada is working through partners to assess needs after a deadly Kahramanmaras earthquake and powerful aftershocks killed thousands in the region.
On February 6th and 7th, two catastrophic earthquakes rocked Turkey and Syria, leaving over 55,000+ casualties in their wake to date. This earthquake has already been dubbed the most deadly in the past century. The tremors sent shockwaves through the region - felt as far away as Lebanon and Israel – causing widespread destruction of homes.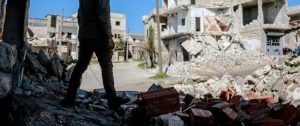 In response to this tragedy, ICR Canada is supporting those in need of practical help. Will you join us in showing compassion to the many people who are suffering and grieving the loss of those close to them?
The earthquake hit unexpectedly in the middle of the night, causing widespread damage and putting many people in danger. The subsequent aftershocks, including one with a magnitude of 7.5, have further weakened buildings and left residents homeless. Officials are advising people to stay away from their homes, causing a significant number of people to be out in the streets and exposed to the cold weather.
The effects of the earthquake have been felt in multiple cities and towns across Turkey and Syria, including large cities like Hatay, Kahramanmaras, and Diyarbakir, as well as smaller villages. Rather than having a clear epicentre, the earthquake has affected a wide area along what can be described as an "epi-line."
Help Support Syria and Turkey With Your Financial Donation
How Can You Pray for Turkey and Syria?